You have invested so much time in your future. Now it's time to find an organization that will invest in you. Discover what HNI can do for your career.
Opportunities
Our partners and providers serve communities nationwide.
We are currently hiring for a variety of ICU positions in the listed states. Select your location of choice to be connected to our recruitment specialists.
Benefits
Being a changemaker has its perks.

Extensive Coverage
HNI covers employees with a wide array of insurance options for a variety of covered conditions.
Medical, Dental and Vision Insurance

Life and AD&D Insurance

Short Term and Long Term Disability Free CME
Stay up-to-date and earn credits with free medical education.
Simulation Labs

Clinical Academy

UpToDate® with VitalsMD®

CME Bonus 401(k) Matching
HNI cares about your future financial health. Maximize your retirement savings with 100% matching contribution on the first 1-3% of employee contributions and 50% matching contribution on the next 2%.
Career Development
Grow professionally with programs for all providers.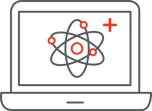 HNICORE
HNICORE is our exclusive training and thought leadership program, dedicated to culture, onboarding, resources and education (CORE). It provides a detailed understanding of value-based care and leadership training while aligning physicians with best practice strategies resulting in optimal patient care and advocacy.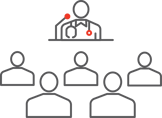 Annual Leadership Conference
HNI has partnered with the University of Texas McComb's School of Business to develop a curriculum for Executive Leadership Development for our clinical and corporate leaders. HNI seeks to transform healthcare by leveraging intelligent technology, innovative processes and developing talented individuals.

Medical Director Training
Perhaps your future path is to become the best medical director. HNI provides medical directors education at off-campus CDI bootcamps as well as ongoing education on subjects relevant to management of hospital medicine practices. Leadership and management courses are also available to help you grow as a leader for your team.
Free One-to-One Consultation
Chat with one of our top recruiters about our personalize placement services that put you first.